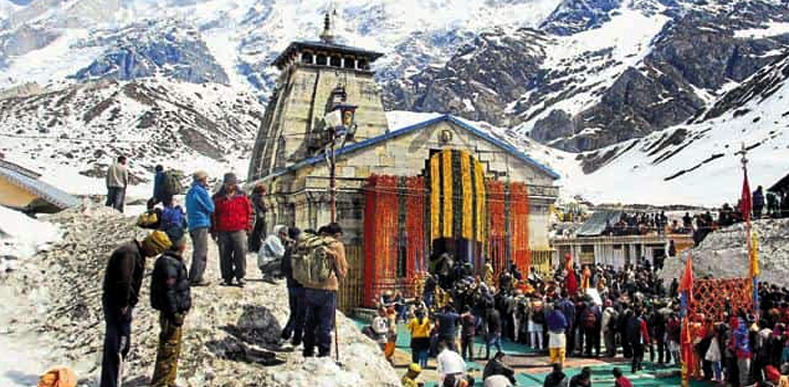 Travel Destinations: Haridwar - Barkot - Yamunotri - Uttarkashi - Gangotri - Guptkashi - Kedarnath - Pipalkoti - Badrinath - Rudrapryag, Rishikesh.
Char Dham Trek
Haridwar, Kempty fall Mussoorie , Yamuna River, Bandar punch view from Barkot, Sri Yamunotri Temple, Prakateshwar Cave, Kashi Vishwnath Temple, Shakti Temple, Bhagirathi River, Sri Gangotri Temple, Tehri Dam, Mandakini River, Sri Kedarnath Temple, Sonpryag, Gaurikund, Alaknanda River, Sri Narsingh Temple, AdiSankracharya Samadhi, Dholi River, Vishnuprayag, Sri Badrinath Temple, ByasGufa, Ganesh Gufa, BheemPul, Saraswati River, Mana Village, Pinder River, Nandakini River, Devpryag (Confluence of Bhagirathi and Alaknanda River,) Rishikesh.
Day 01: Arrival Haridwar - Barkot (213 Kms. 07 hrs)
Morning on arrival at the Railway station or Jolly Grant airport, meet and drive to Barkot via Mussoorie, En route see Kempty fall, after visit Kempty fall straight drive to Barkot.
Day 02: Barkot - Yamunotri - Barkot (42 Kms Drive / 6 Kms trek.)
Morning leave for JankiChattivia Hanuman Chatti& Fool Chatti. on arrival JankiChatti start Trek of 06 kms for Yamunotri, On Arrive Yamunotri Holi Dip in GaramKund, than Pooja and Darshan of Shree Yamunotri Ji, after Darshan and Pooja, afternoon start trek back to JankiChatti on arrival JankiChatti meet with driver and drive back to Barkot.

Hanuman Chatti: The confluence of Hanuman Ganga & Yamuna River.
YamunotriTemple: Maharani Gularia of Jaipur built the temple in the 19th Century. It was destroyed twice in the present century and rebuilt again.
Surya Kund: There are a Number of thermal springs in the vicinity of the temple, which flows into numerous pools. The most important of these is Surya Kund.
DivyaShila: A rock pillar, worshipped before entering the Yamunotri Temple.
Day 03:Barkot - Uttarkashi (Drive 82 Kms, 04 hrs)
Morning drive to Uttarkashi, enroute visit Shri Prakateshwar Cave dedicate to Lord Shiva, Prakteshwar Cave only 100 Meter trek from Road, after darshan of Holy cave drive to Uttarkashi, Lunch Enroute, after Lunch drive to Uttarkashi. On arrival Uttarkashi Check In at the hotel, evening visit Shree Kashi Vishwnath Ji Temple, Shakti Temple, after Holy darshan of Kashi Vishwnath Temple, return back to Hotel. Overnight stay at the hotel. Uttarkashi: Situated at the bank of river Bhagirathi. The temple of Lord Vishwanath is located here where a massive iron trident is erected. The other important temples situated here are EkadashRudra, Bhairav, Gyaneshwar and Goddess Kuteti Devi.
Day 04: Uttarkashi - Gangotri - Uttarkashi (100 Kms. per way)
Early Morning drive to Gangotri, enroute at Gangnali take a holy dip in GaramKund, than drive to Gangotri via beautiful Harsil Valley, Harsil is famous for Nature Beauty, majestic view of Deodar Tree and Mountains. On arrival Shree Gangotri, take a holy dip in the sacred river Ganges, also called Bhagirathi at its origin. Perform Pooja and Darshan, after that relax for some time in the lovely surroundings. Afternoon drive back to Uttarkashi.
Day 05: Uttarkashi - Guptkashi (215 Kms. Drive 09 - 10 Hrs)
Morning drive to Guptkashi via Moolgarh, Lambgaon. En route visit Tehri Dam. Later continue drive to Guptkashi, today is the first time to see the beautiful river Mandakini at Tilwara. Mandakini Drive alongside the river to reach Guptakashi late in the evening check in at the Hotel, evening visit Shree Kashi Vishwnath Temple, ArdhNarishwar Temple.
Day 06:Guptakashi - Kedarnath (32 Kms Drive, 14 Kms. Treks)
Morning drive to Gaurikund 32 Kms from Guptkashi, en route visit sonprayag to see the Confluence of Son Ganga and MandakiniRiver. On arrival at Gaurikund take a Holi dip in Gaurikund, start 14 Kms trek towards Shree Kedarnath Ji. Afternoon start trek towards Kedarnath. On arrival check in at the hotel. Evening perform Pooja and also Darshan at Shri Kedarnathji. In the evening also visit AdiShankaracharya Samadhi behind the temple.
Day 07:Kedarnath - Pipalkoti (14 Kms trek 145 kms Drive)
Early Morning Pooja at Kedarnath temple. Morning trek down to Gaurikund. Later driver to Pipalkoti, enroute see the beauty of Chopta. On arrival Pipalkoti check in at hotel. Overnight stay at Hotel.
Day 08:Pipalkoti - Badrinath (72 kms)
Morning drive to Shree Badrinath Ji, en-route visit NarsinghMandir, AdiSankarachara Samadhi and HathiParwat from Joshimath.On arrival Badrinath check in at hotel. Afternoon take a holy Dip in NaradKundDarshan of Shree BADRIVISHAL JI, evening visit of Mana village – (the last village before the Tibetan border), also visit ByasGufa, Ganesh Temple, Shree Saraswati Temple, Saraswati River, see the beautiful confluence of Saraswati River and Alaknanda from Mana Village called" Keshavpryag" after a beautiful trip come back to Hotel, Evening perform Sri Badrinath Ji Arti at the Temple.

Tapt Kund: Natural thermal springs on the bank of the river Alaknanda, where it is customary to bathe before entering the Badrinathtemple.
NaradKund: A recess in the river, near Tapt Kund, forming a pool from where the Badrinath idol was recovered.
Mata MurtyTemple: Devoted to the mother of Sri Badrinathji. Other important temples include Sesh Netra Temple, Urvashi Temple and Charanpaduka.
Mana Village: Inhabited by an Indo-Mongolian tribe, it is the last Indian village before Tibet.
BhimPul: On the other side of Mana village, a massive rock forming a natural bridge lies over the roaring SaraswatiRiver. It presents a spectacular view of water thundering down through the narrow passage under the rock and is believed to have been placed there by Bhim, the second eldest among the five Pandava brothers.

Vyas Gufa (cave):Near Mana Village, this is a rock-cave where Ved Vyas is believed to have composed the Mahabharata and the pauranic commentaries.
Day 09:Badrinath - Rudrapryag (155 Kms)
Morning Pooja and Darshan at the Temple (04:00 A.M. to 07:00 A.M). After pooja drive to Rudraprayag, en-route visit Vishnu Prayag, Nandprayag, (Confluence of Nandakini and Alaknanda) Karanpryag (Confluence of Pinder River and Alaknand River). On arrival RudraprayagRudraprayag: It is the confluence of river Mandakini and river Alaknanda. Temples:Rudranath and Chamunda Devi, Koteshwar Temple (3 Kms).
Day 10:Rudrapryag - Haridwar (135 Kms 7 hrs)
Morning drive to Haridwar, en-route visit the Confluence of Bhagirathi and Alaknada called Devprayag from Devprayag onward Bhagirathi River become Holy Ganges). After visit Devpryag drive towards Haridwar via Rishikesh. On arrival Haridwar drop you at Railway station to connect train for onward destination.